Public Awareness Campaign on Social Hosting
Parents Who Host Lose the Most is a nationally- successful, evidence-based strategy used to bring community-wide awareness of the harms and risks of social hosting underage drinking parties. Social hosting is the act of allowing youth under 21 to drink alcohol on one's property, whether or not the adult actually provided the alcohol to the youth. The focus of this effort is on the adults who are hosting these parties.
Key Partners and Community Leaders
Contributing to this campaign includes leaders who wrote Op Ed articles in 2015 – Sheriff Barry Babb, Fayetteville Detective Scott Israel, Fayette FACTOR Executive Director Becky Smith, and Peachtree City Councilmember Kim Learnard. Fayetteville City Manager Ray Gibson and Tyrone Town Manager Kyle Hood helped us place Parents Who Host banners in strategic places within the community, and most of our Fayette County high school principals allowed us to place these banners in their high school in April and May 2015. Additionally, Fayette County, Fayetteville, Peachtree City and Tyrone have all made Alcohol Awareness Month proclamations in both 2015 and 2016. Local videographer JP Beaty (Kelsher Communications) contributed much time and talent to creating impactful video content, and in guiding local youth to create their own compelling TV shows, PSA's and short dramas on underage drinking and social hosting.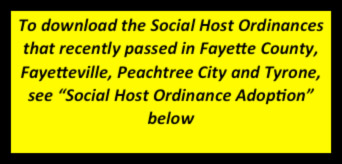 Successes
In 2015, we saw the percentage of parents who have heard of social hosting increase from 13% to 28%, and among youth from 7% to 29%. In 2016, we already see that more than 50% of youth and adults agree that "if parents knew about laws and consequences of being a social host to an underage drinking party, it would discourage them from hosting a teen party where alcohol is available."
---
Social Host Ordinance Adoption
It is well known that actually furnishing alcohol to underage youth is against the law. But until recently, it has NOT been prohibited for parents and adults to knowingly ALLOW youth to drink in their homes. The Social Host Ordinance strategy works with local communities to make hosting these underage drinking parties against the law.
Key Partners and Community Leaders
A small core of community leaders – including Family Attorney Catherine Sanderson, Fayetteville Detective Scott Israel, and Peachtree City Councilmember Kim Learnard – made up what we affectionately called our "Law Team". These four suggested an approach whereby AVPRIDE convened a social host ordinance discussion in each jurisdiction of our county, comprised of the Municipal or State Judge, Prosecutor, City or County Manager, and Police Chief or Sheriff. These focused conversations helped bring attention to the most critical issues and concerns surrounding potential social host ordinances.
Additionally, a "social host ordinance drafting team" comprised of law enforcement and attorneys worked together to research nearby state and county social host ordinances, and ensure language that was constitutional, appropriate for our county, and flexible. That drafting team, led by Family Attorney Catherine Sanderson, was made up of Assistant Solicitor General Audrey Holliday Cruzan, Family Attorney Melissa Sanford, Chief Assistant Solicitor General Joseph Myers, Jr., Lieutenant Robert Kersey with the Fayette County Sheriff's Office, Sergeant Kay Crider with Peachtree City Police Department, and Detective Shawn Albea with the Fayetteville Police Department.
Successes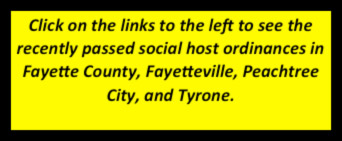 As of January 2016, social host ordinances have been enacted by Fayette County, Peachtree City, Fayetteville and Tyrone.
---
---
Alcohol Education Curriculum In Middle School
Project Northland is a nationally-successful, evidenced- based strategy that introduces middle school students to alcohol and education, and systematically encourages important conversations with their parents about alcohol.
Key Partners and Community Leaders 
Fayette County School System, Rising Starr Middle School (who first piloted the curriculum in the 2014-2015 school year), and the other four middle schools in Fayette County – Bennett's Mill, Flat Rock, JC Booth and Whitewater – who added the curriculum in the 2015-2016 school year.
Successes
AVPRIDE has facilitated training for Project Northland teachers and trainers within the school system. The Fayette County School System is now sustaining the project, and all five middle schools are expanding Project Northland training – which occurs during students' 9-week health classes – to all three middle grades in 2016-2017. This translates to over 5000 students per year receiving alcohol education during the critical middle school years.
Back to Alcohol Prevention Project