26 Apr

When Less Becomes More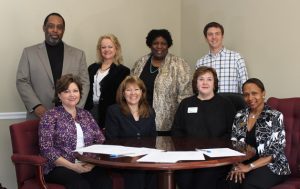 On January 29, Fayette FACTOR, AVPRIDE, and Advo-Kids CASA signed a lease to rent space in the Office Park located at 101 Devant Street.  Suite #502 is now home to three non-profits whose focus on youth in Fayette County is both intentional and significant.
FACTOR, AVPRIDE, and CASA are no strangers to each other.  The three organizations shared space in an office located at 278 McElroy Road in Fayetteville, for about 5 years.  As the application process for funds in the world of non-profit continues to become more competitive and the pool of money continues to shrink, the three organizations continue to do their very best to serve the community.
Fayette FACTOR is the county's family collaborative, AVPRIDE is the county's source for youth leadership development, and Advo-Kids CASA is an organization of court appointed special advocates for kids.  The three organizations are thrilled to come together again in a new space where they can share resources and serve the community in a more significant way.  The new location has adequate space for the kind of training that meets the needs of each organization respectively.  In addition, the new space allows for the growth and expansion of services these organizations dream of.
As word is getting out about this wonderful collaboration, community interest and support grows.  The actual move-in took place on March 19th when United Way Gifts in Kind showed up that afternoon with a truck-load of office furniture.  It was a blessing to receive desks, chairs and artwork for the walls.  The Chamber will host a ribbon-cutting event on Tuesday, April 30th at 5:30pm.  The three organizations are looking forward to sharing more about its efforts with community partners, friends and family.
FACTOR, AVPRIDE, and Advo-Kids CASA are pioneering a new way for non-profits to work, utilize resources and leverage community support.  It is a great opportunity to become even better stewards of what they've each been given to serve and strengthen our young people and their families.
View and download the Yellow Ribbon Open House Invitation: