Fayette Youth Leaders PRIDE represents Fayette County's most innovative, influential, and ambitious student leaders. These youth have demonstrated their passion for problemsolving, setting positive examples for their peers, or creating opportunities for others to succeed. It is AVPRIDE's pleasure to give these young leaders a relaxed atmosphere where they can learn from each other and by connecting them with community leaders who are committed to enhancing their skill sets.
APPLY NOW by AUGUST 4th! – Apply Here
---
What Can I Look Forward To?
Getting to know the county while working with community leaders
Influencing county policies
Creating and engaging in community service projects for local businesses
Attending the annual leadership retreat
A special induction ceremony with community leaders
Engaging classmates in community opportunities
Monthly skill-building workshops
Participation in the "Learn from a Leader" series
---
Which Skills Am I Building?
Public Speaking
Ethics & Morality
Business Etiquette & Soft Skills
Networking
Time Management
Conflict Resolution
Health & Wellness
Finacial Literacy
Team Building
Leading Group Discussions
Event Planning
Project Management
---
Be a part of the "FYLP" Team that is changing the paradigm of youth engagement in Fayette County!
Members work with community leaders to offer youth perspective on Fayette County's future direction.
---
Leadership & Civic Engagement opportunities
Contributed to City Comprehensive Plan
Joined School Board and Town Hall meetings
Helped conduct Political Candidate Forum
Contributed to discussions on teen technology use and substance abuse prevention strategies
Participated in Georgia Mayors' Day Conference
Attended Georgia Teen Institute Leadership Conference
AND OVER 70 OTHER OPPORTUNITIES!
---
AVPRIDE, Inc. is a non-profit organization that offers academic support, mentoring and youth leadership development programs.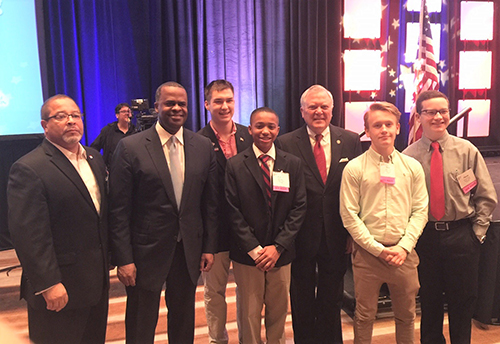 As an organization, AVPRIDE believes that youth are:
A major asset to the community, to be valued and engaged in community processes;
Innovative and able to lead and create change; and
Capable of making positive and lasting contributions now to improve the health of the community.
Further, AVPRIDE believes that the community has a responsibility and moral obligation to engage youth in meaningful opportunities to learn, deliberate, create, and serve.